Home > Studies > Current studies
Current studies
In September 2015, after careful evaluation of the Study Panel's findings and recommendations as well as the position of the Parties in the litigation, the Court ordered the appointment of an engineering firm to develop a remediation plan. The engineering firm would identify cost-effective and effective remedies, if any, to clean up the remaining mercury in the Penobscot River system and provide the recommendations regarding possible remedial alternatives.
The Court directed that the evaluation of the recommended remedial alternatives provided by the engineering firm would evaluate:
Whether the recommended alternative has been successfully attempted previously or is innovative
The likely costs of the recommended alternative
The length of time to implement the recommended alternative
The likely effectiveness of the recommended alternative
Any potential environmental harm that may result from the recommended alternative
Phase III Engineering Study
In October 2015, the Court issued an Order for the Evaluation of Potential Active Remedies (Phase III Study). This requires a thorough and independent identification and evaluation of potential active remedial measures to speed the recovery of the Penobscot River and Estuary from mercury contamination. The evaluation process would identify potential remedial measures that are feasible, effective, and cost-effective, and achieve the objectives set forth by the Court (see September 2015 Order) and the Resource Conservation and Recovery Act.
The Phase III Study is intended to focus on the Penobscot River and Estuary that is influenced by ocean tides. This includes the area from downstream of the former Veazie Dam to southern Verona Island, and extending downstream past Fort Point into the upper Penobscot Bay. This also includes Mendal Marsh. Major waterways within the Penobscot River and Estuary include the Penobscot River, Marsh River, Orland River, Eastern Channel and Fort Point Cove.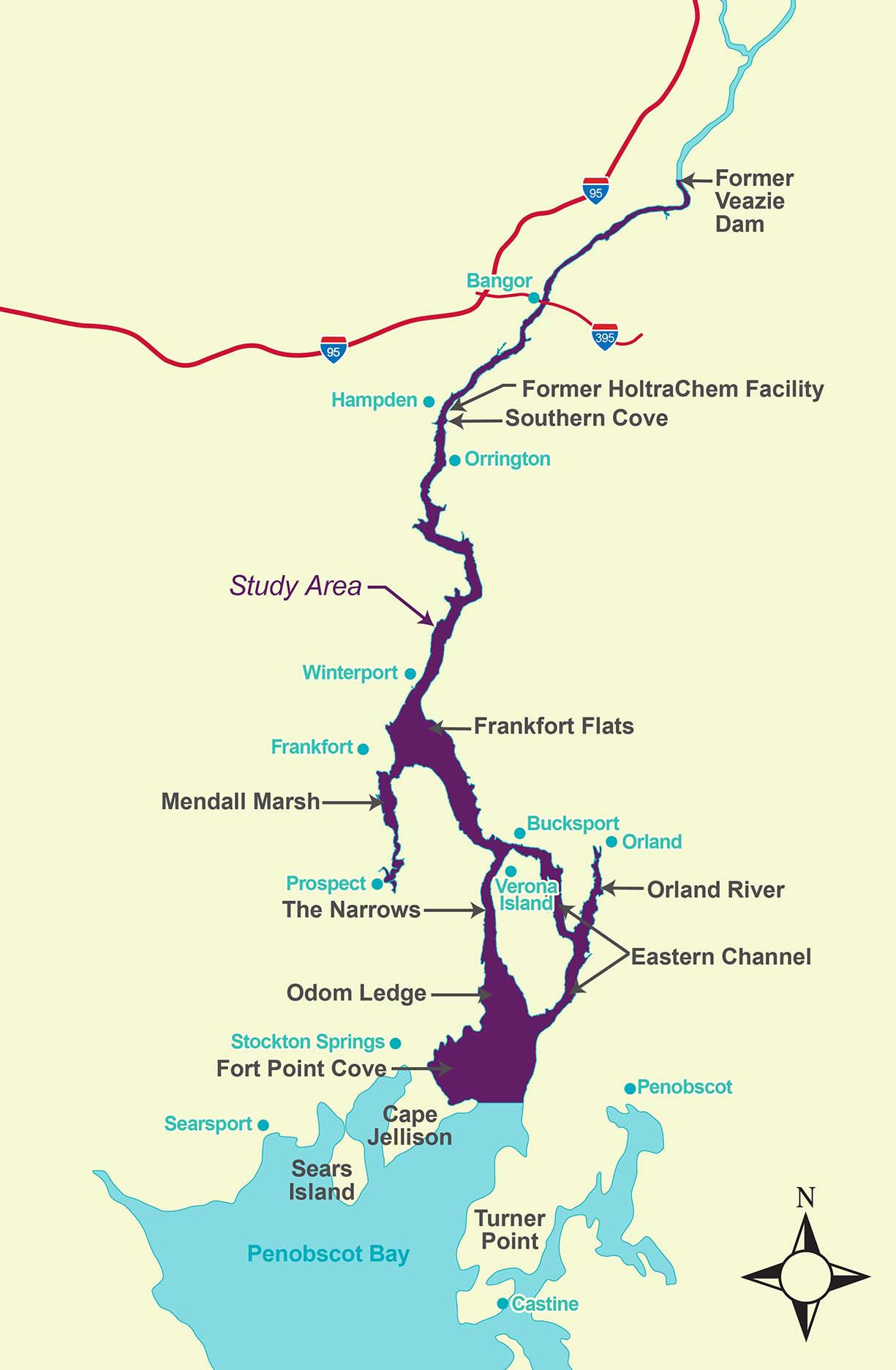 In January 2016, the Court released the Selection of the Phase III Engineering Firm. Amec Foster Wheeler was selected as the engineering firm to complete the Phase III Evaluation of Potential Active Remedies. Amec Foster Wheeler manages the project out of its Portland, Maine office with support from key technical experts across the organization in other offices.
Amec Foster Wheeler conducted a number of studies to support the evaluation of potential remedial approaches. The Phase III Engineering Study Report and supporting reports, Monthly Progress Reports and approved Work Orders are available for review in the Information Repository, Phase III Engineering Study. In general, the activities included:
Reviewing existing information
Assessing the applicability of a variety of remedial technologies
Developing remediation goals (clean up levels)
Evaluating alternative remedial approaches
Conducting field studies to address information gaps and better understand the biological environment, sediment transport, Mendall Marsh, tidal zone, and other aspects
Developing and implementing a Communication and Community Involvement Plan
Conducting treatability studies to determine the effectiveness of treating select mercury-impacted areas
Conducting risk assessments
Preparing recommendations
In general, the engineering technologies and strategies considered included:
Dredging
Capping
Sediment and soil amendments (substances such as activated carbon that can be added to sediments or soils to reduce harmful effects of methyl mercury)
Sediment trapping
Confined Aquatic Disposal (CAD) cells
Monitored natural recovery
The Phase III Engineering Study schedule was:
Reviewing of Existing Data - January through September 2016
Assessing technologies and remedial approaches - May 2016 through June 2018
Conducting additional field studies - April 2016 through August 2017
Reporting findings in the Final Phase III Engineering Study Report - September 14, 2018