Home > Environment
The penobscot river, located in central maine, is the largest river entirely in maine and drains nearly one-third of the state. the section of the penobscot river upstream of bangor is freshwater. the section of the penobscot river downstream of bangor is influenced by ocean tides. where freshwater and salt water mixes as a result of the tides, the penobscot river becomes an estuarine river between bangor and verona island. near fort point, the river opens up into a bay called the upper penobscot bay. the penobscot bay extends to the atlantic ocean.
Sections of the Penobscot River from Bangor upstream to West Enfield have been the focus of the Penobscot River Restoration Project. This restoration project includes the removal of dams, the restoration of fish habitat, and the reintroduction of Atlantic salmon. A tidal portion of the Penobscot River, from Bangor downstream to Bucksport, is a navigable waterway with federally-authorized channels with a rich shipping history.
The Phase III Study focuses on the Penobscot River and Estuary that is influenced by ocean tides. This includes the area from approximately Bangor (specifically downstream of the former Veazie Dam) to Verona Island and extending downstream to Fort Point. Major features within the Penobscot River include the Penobscot River itself, the Marsh River and the Orland River tributaries, the Eastern Channel around Verona Island, and Fort Point Cove.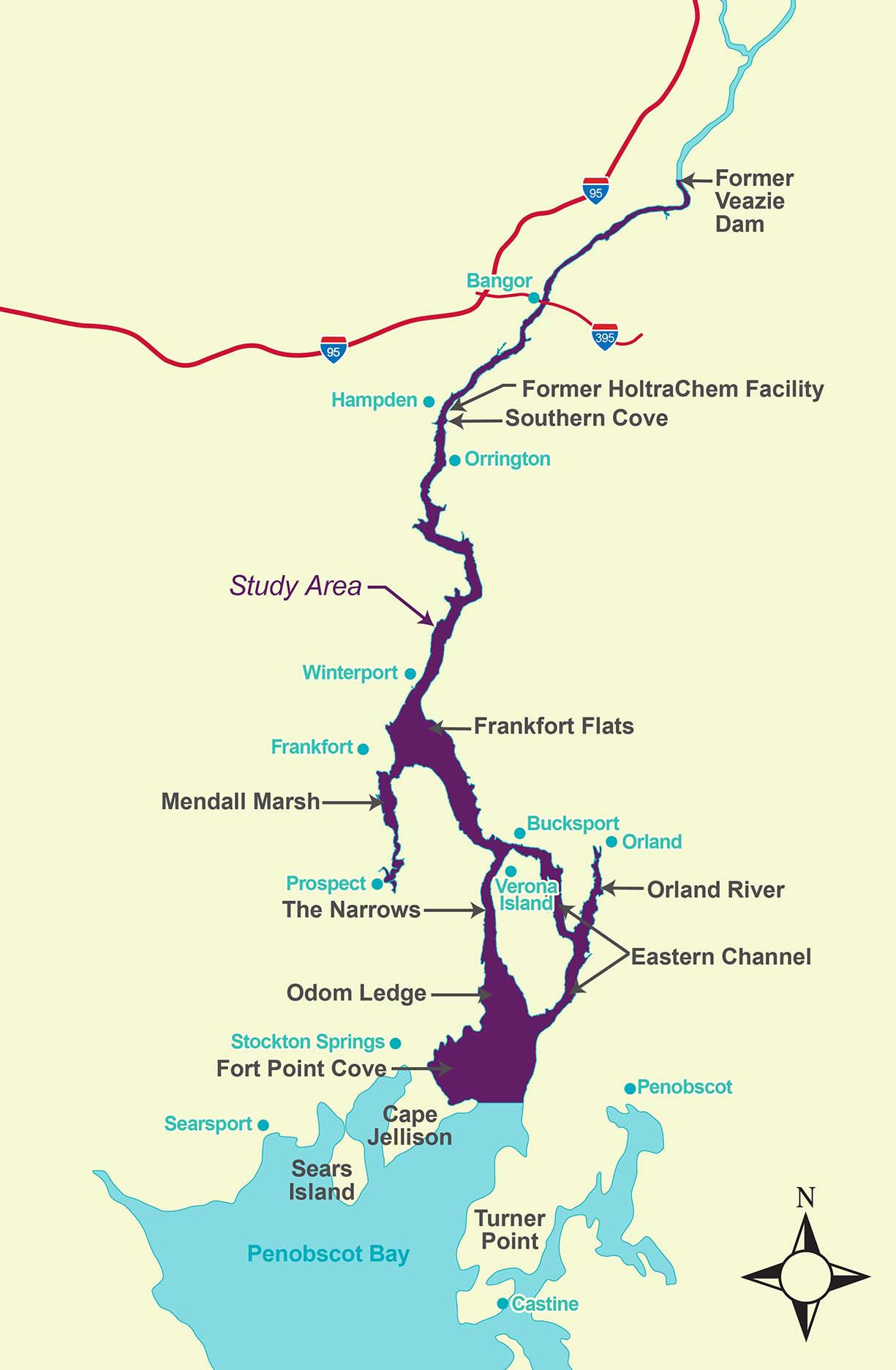 A unique feature of the Phase III Study Area is Mendall Marsh, which is located on the west bank of the Estuary near the towns of Frankfort and Prospect. Mendall Marsh is a state-designated wildlife management area. This salt marsh acts as a nursery for fish and wildlife. For example, some bird species, like the red-winged blackbird, reproduce in the marsh before moving out to other habitats. The marsh also serves as an important migration stop where a variety of bird species congregate in the fall before heading south or overwintering in the marsh.
The shape of Mendall Marsh, similar to that of a funnel, results in some unique characteristics. The marsh is partially fed by the two branches of the Marsh River that flow into the Estuary. A point of land that juts out protects the marsh from the River's direct flow; however, water from the Estuary carrying sediment containing mercury still enters the marsh on the incoming tide. Once deposited, it is believed that sediment tends to remain in the marsh. The shape of the marsh and the seasonal variations associated with the tides could make the marsh a sediment trap. This is being evaluated as part of the Phase III Engineering Study.